About Minaret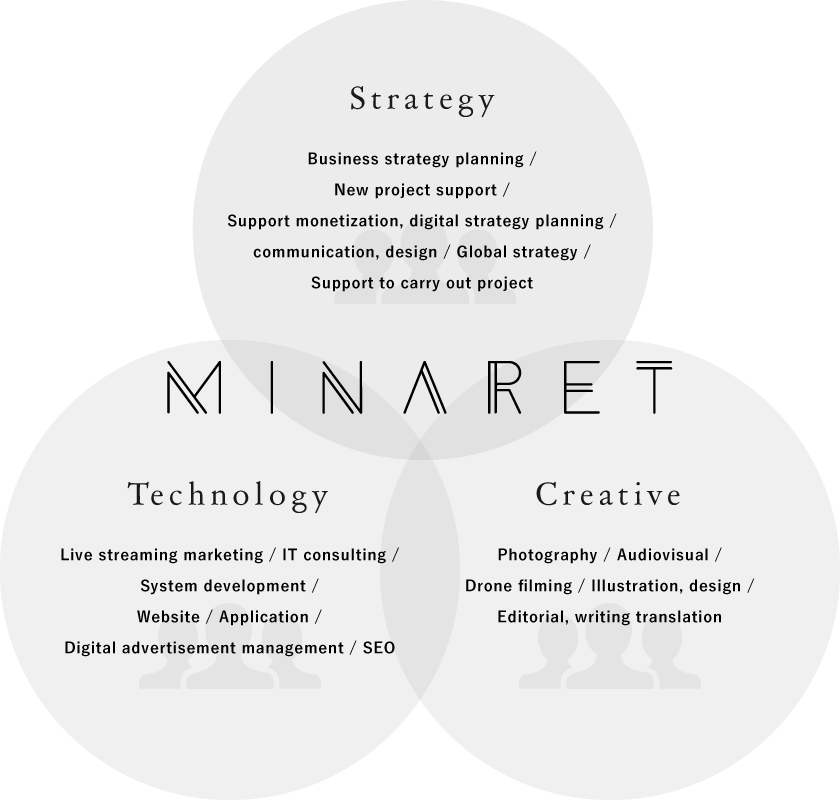 We are a consulting team consists of the specialists of strategy, technology, and creative production. Various professionals belonging to our team; consultants, marketers, programmers, engineers, art directors, designers, painters, and musicians.
Strategies
We can propose practical solutions for each individual case with our various consulting experiences with many large companies. The representative Yuki Masuda also has held positions of CMO on both domestic and foreign companies.
Technologies
Our global high level engineering team can provide high quality products promptly.
We have certainly the specialists of website creation, system development, social media contents management, digital advertisement management, and SEO(search engine organization) .
Creative team
Our large scale creative team produces high quality products in various fields; editorial, design, illustration, photography, audiovisual, drone filming, music contents creation and more.
Package proposal
The biggest strength of our company is 'Package proposal', and has succeeded in many projects. We handle all together quickly. Planning, system development, advertisement management, and creation.
SERVICES
Strategy planning

We propose practical strategies of business, marketing, digital fields that produce much results for company growth.

Digital contents

Digital strategy planning, smartphone application creation, system development, digital advertisement management, SEO(Search Engine Organization), digital contents creation etc.

Creativity

Our creators have reliable techniques. We create high quality contents and have experiences in many fields; transport advertisement, TV commercial, print advertisement, and digital contents.

Lecture / Seminar

We give lectures or seminars at trainings of companies. The main subjects of our lectures and seminars are about marketing knowledge, Game theory, and live streaming know-how, etc.

Marketing research of live distribution

We propose strategies that using live streaming platform. We also consult about live streaming platform.
Results
Maketing
Stager Live

Stager Live is a mobile live streaming application run by Newstage.inc. (The head office located in Hong Kong.) In 2016, just after launching in Japan, our representative Masuda became CMO of the project. Despite fan funding system had not been very familier with Japanese culture, Stager Live recorded top 4 of App Store Social networking ranking in 3 months and 1,500,000 downloads in 1 year.

Good Man Service.inc

We consult on Good Man Service.inc comprehensively including marketing strategy, IT consulting, digital advertisement management, candidates management system development, website renewal, social education etc. According to the achievement of complete support to highly growth company, whose sale amount to 2,200,000,000 yen, our representative Masuda became outside director from 2018.
Web / Owned Media
Gurunavi - Temiyage

Sunrise - GUNDAM.INFO

ROHTO - Exiv Contents

gleam

yobolife

cafe SIK
Movie
SONY aibo room PR Movie

Spiderman PR Movie

Okinawa Hateruma-island PR Movie
Illustration
2014 FIFA World Cup™ official project
Photo
Company Profile
Company name

Minaret Inc.

Foundation

2013.01

Capital

10,000,000 JPY

Officer

President and CEO Yuki Masuda
CTO Kazuo Iwao

Head Office

3F Barres 5-9-5 Shirokanedai, Minato-ku, Tokyo, 108-0071, Japan

TEL / FAX

+81-3-6432-5673 / +81-3-6432-5674

URL

https://minaret-imi.net

Main Bank

MIZUHO BANK, LTD. Shinagawa BRANCH.
CONTACT US
Address

3F Barres 5-9-5 Shirokanedai, Minato-ku, Tokyo, 108-0071, Japan
©2023 Minaret Inc. All Rights Reserved.